CK5 - World Leading CMS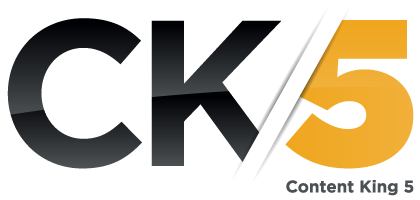 Introduction:
CK5 is a robust and versatile system that has gained recognition for its extensive range of features and ease of use for designers, developers, editors, and marketers. With its seamless integration and minimal programming knowledge required, CK5 stands out as one of the top choices in the market. The scope, capabilities, and embedded features that make CK5 a powerful tool for managing complex websites, including user management, email management, and secure intranet functionalities.
Unparalleled Range of Features:
CK5 sets itself apart by offering a wide range of features that cater to the needs of various stakeholders involved in website development and management. From designers to developers, CK5 provides an intuitive and user-friendly environment that requires little to no programming knowledge. This enables designers and developers to effortlessly plug in features without the need for extensive coding.
User-Friendly Interface:
One of CK5's key strengths lies in its user-friendly interface, allowing editors and marketers to easily manage even the most complex websites. The system provides an intuitive content management system (CMS) that empowers editors to create, edit, and publish content with minimal effort. Marketers can leverage CK5's comprehensive tools to optimize their strategies, including managing user accounts, implementing email campaigns, and monitoring website analytics.
Seamless Integration:
CK5's strength lies in its ability to seamlessly integrate various functionalities, such as user management, email management, and secure intranet capabilities. This integration enables different teams within an organization to share the same content and infrastructure efficiently. Whether it's managing user access levels, handling email communication, or establishing a secure intranet for internal collaboration, CK5 provides a unified platform that simplifies the management process.
Enhanced Security:
Security is a paramount concern for any website, and CK5 recognizes this importance. The system incorporates robust security measures to ensure the protection of sensitive data and confidential information. Whether it's safeguarding user accounts or securing internal communication channels, CK5 provides the necessary tools to establish a secure environment.
Proven in the Marketplace
CK5 has not just sprung to life, it has been in use for over 10 years, so its features have been built and tested by real-world businesses in a range of industries with a wide range of applications and requirements.
Feature Checklist
| Feature | Standard | Implementation |
| --- | --- | --- |
| Editor Interface | ckeditor | |
| Content Editing | Y | - |
| Number of Content Objects | No Limit | |
| WYSIWYG Interface | Y | - |
| Spell Checking | Y | - |
| Image Management | Y | |
| Number of Images | No Limit | |
| Link Management | Y | - |
| Style Management | Y | 1 |
| | | |
| Editor Features | | |
| Content Scheduling | Y | |
| Content Preview | Y | - |
| Web Site Preview | Y | - |
| Image Directory | Y | - |
| Image Resizing | Y | |
| Resizable Image Types – JPG|JPEG|GIF|PNG|BMP | Y | - |
| Non resizing Image Type – SVG | Y | - |
| Document Repository | Y | |
| Document Types – pdf, txt, doc, docx, xls | Y | - |
| Video Management | Y | - |
| Image Gallery | Y | - |
| Document List | Y | - |
| Dynamic position of Document List | Y | - |
| | Y | - |
| Meta Description Management | Y | - |
| | | |
| Site Management | | |
| Devolved Editorial Control (multiple editors with control over different pages ) | Y | - |
| Reading Statistics | Y | - |
| Categorisations/ Classification of Content /Files for indexing | Y | - |
| Google Tag Manager | Y | 1 |
| Google Ad Integration | Y | 2 |
| | | |
| Developer Tools | | |
| Create Pages | Y | - |
| Create Secure Page (Intranet/portal) | Y | - |
| Create Page Block | Y | - |
| Define Page Block | Y | - |
| Display Type | Y | - |
| Number of Types | 50 | Additional ones created on request |
| Display Number (Short List / Maximum) | Y | - |
| Display Order | Y | - |
| Content Sharing | Y | - |
| Related Content Structure | Y | - |
| Create Site Search | Y | 1 |
| Search Constraints | Y | 1 |
| Search Display | Y | - |
| Product /Service Catalogue | Y | - |
| Product Filter Structures | Y | - |
| Featured Products | Y | - |
| Feature Dynamic Mapping System | Y | More Information |
| Reader Comments | Y | 2 |
| Content Archives | Y | 2 |
| Video Display – YouTube | Y | - |
| Video Display – VIMEO | Y | - |
| | | |
| User Management | | |
| Create User Group | Y | - |
| Administrator | Y | - |
| Associate Administrators | Y | - |
| Import Users | Y | - |
| Self-Registration | Y | 2 |
| Categorize Users | Y | - |
| | | |
| Email Management | | |
| Direct Marketing Emails | Y | 2 |
| Mobile Friendly Template | Y | - |
| Preview Email | Y | - |
| Test / Proof Reading | Y | - |
| Scheduled Sending | Y | - |
| Recipient Filters | Y | - |
| Opening and Reading Stats | Y | - |
| Unsubscribe Management | Y | 2 |
| Profile Management | Y | 2 |
| | | |
| User Group Administration Emails | Y | 2 |
| Mobile Friendly | Y | - |
| Dynamic Content | Y | - |
| | | |
| Operational Emails ( e-commerce, CRM related) | Y | 2 |
| Mobile Friendly | Y | - |
| Dynamic Content | Y | 2 |
Conclusion:
CK5 stands out as a leading system due to its comprehensive range of features, ease of use, and seamless integration capabilities. With its minimal programming requirements, CK5 empowers designers, developers, editors, and marketers to create and manage complex websites effortlessly. By combining user management, email management, and secure intranet functionalities within the same content and infrastructure, CK5 provides a unified platform that streamlines website management processes. With CK5, organizations can harness its power and versatility to achieve their goals effectively and efficient
Contact us to arrange a call from one or our CK5 Specialists